By Chris Dimick
The end has been prophesied by the ancient Mayans for centuries. In 2012, what was light will turn to dark, the final chapter read and closed, and the culmination of years of horror will cease.
That's right, 2012 will mark the end of the

Rich-Dimick Horror Project

.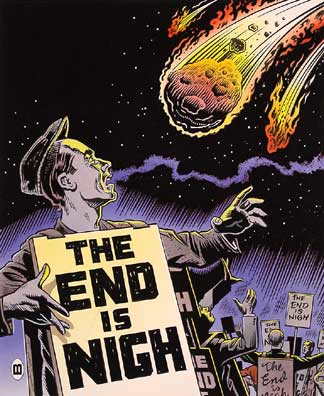 We will enter the new year screening the final five films of the RDHP. When the credits roll on our last, 2011 year film, we will have viewed and blogged on 92 horror movies, one from each year between 1920 and 2011.
Below, we take a look at the last five films of the RDHP, and ask you to decide what our final film of the project will be.
Nick and I hope you have a great new year, and invite you to help us close out our horror project in style by watching these final films along with us.
Load up the Netflix with the below films, view, and then submit your comments on the blog. In a way, we will walk into the darkness together, hands held tight and blood-splattered faces held high.
Just like the Mayans would have wanted.
Final Five Films of the RDHP
Watch along as we come to the end of the project with these beauties.
Count Yorga, Vampire
Sixties couples Michael and Donna and Paul and Erica become involved with the intense Count Yorga at a Los Angeles séance, the Count once lover to Erica's just-dead mother. After taking the Count home, Paul and Erica are waylaid, and the next day a listless Erica is diagnosed by their doctor as having lost mucho of blood.
When she is later found feasting on the family cat, the doctor becomes convinced vampirism is at work and that Count Yorga and his large isolated house are just too suspicious to not be involved.
Cat blood, eh? Those LA health nuts will try anything!
Sunset Boulevard
Like Snow White and the Seven Dwarfs, this is not your typical horror film. But the tone, plot and setting of Sunset Boulevard garner more chills than many slashers.
The story, set in 1950s Hollywood, focuses on Norma Desmond, a silent-screen goddess whose pathetic belief in her own indestructibility has turned her into a demented recluse.
The crumbling Sunset Boulevard mansion where she lives with only her butler, Max, who was once her director and husband, has become her self-contained world.
Norma dreams of a comeback to pictures and begins a relationship with Joe Gillis, a small-time writer she thinks will take her to the top. The story ends with murder and total madness.
Some people will do anything to nurse a dying star... right Lindsey Lohan?
Jesse James Meets Frankenstein's Daughter
Legendary outlaw of the Old West Jesse James, on the run from Marshal MacPhee, hides out in the castle of Baron Frankenstein's granddaughter Maria. But instead of playing nice, Maria proceeds to transform Jesse's slow-witted pal Hank into a bald zombie, which she names Igor and orders to do her bidding.
Oh jeez, that old Hollywood chestnut is being hauled out again? I've heard of the Jetsons meeting the Flintstones, but this is ridiculous.
May
When May was a child, she was a lonely girl with one lazy eye and no friends, unless you count a weird and ugly doll kept in a glass case given to her by her bizarre mother on her birthday.
May becomes a lonely weird young woman, working in an animal hospital and assisting the veterinary in surgeries.
It's psychological horror about a woman traumatized by a difficult childhood, and her increasingly desperate attempts to connect with the people around her.
Oh, come on. Lazy eyes are sexy!
You Decide!
After counting the first round of reader votes, two films are tied for the win. Please cast your tie-breaking vote between:
Don't Be Afraid of the Dark
A young girl sent to live with her father and his new girlfriend discovers creatures in her new home who want to claim her as one of their own.
You are saying that tween girls aren't ALREADY monsters?
OR
Apollo 18
Decades-old found footage from NASA's abandoned Apollo 18 mission, where two American astronauts were sent on a secret expedition, reveals the reason the U.S. has never returned to the moon.
And that reason is: wars are more important to spend money on than science.
VOTE NOW IN THE COMMENT SECTION!
HAPPY NEW YEAR TO YOU AND YOUR KIN
and
THANKS FOR READING THE RDHP!